There are countless ways to make your home and garden a unique haven that's as beautiful as it is functional. You can add customised paving, potted plants, and garden features such fountains, pergolas, outdoor seating, arbours, and decorative walkways with inviting curves, bridges, and steps for interest. One material that's often overlooked is river pebbles for decorative effects and useful applications such as drainage and weed control.
You can get as creative as you want with our coloured pebbles in large and small, and a combination of shapes such as circular, square and rectangular for indoor and outdoor use.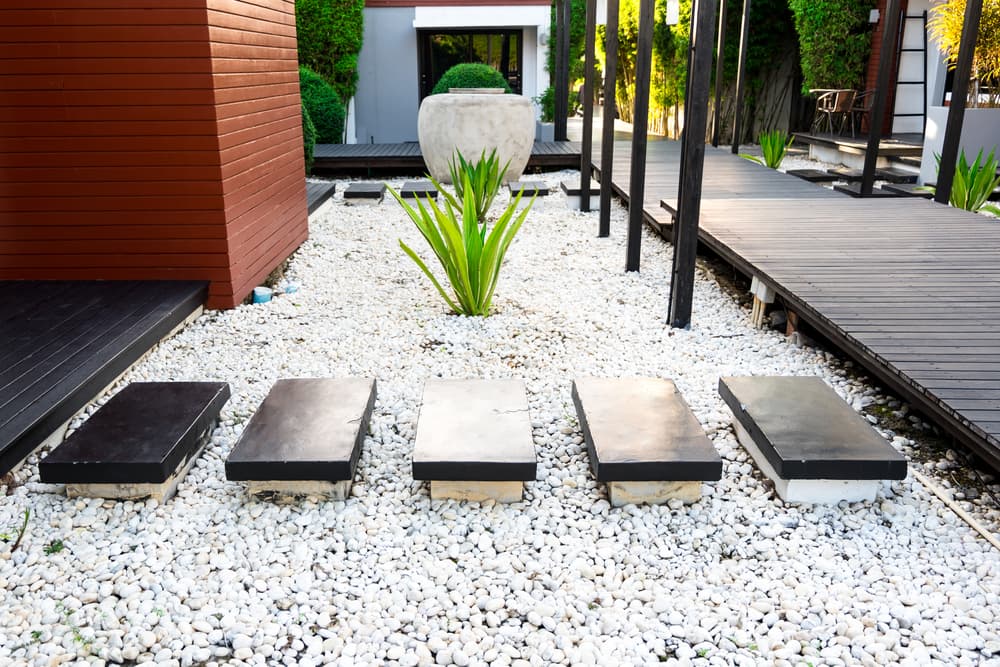 Pebbles for Indoor Use
Pebble stone decorations suit a range of interior décor styles, and you can create small projects like photo frames and welcome mats using pebbles and a glue gun. You can get the kids involved in making pebble works of art, painted pebbles or a pebble centrepiece for the dining table. There's no limit to the pebbly things you can create with paint, glue and a bit of imagination.
For larger projects, consider adding pebbles to your fireplace surround, the floor of your shower for a combination non-slip feature and foot massage, a decorative wall hanging, or a backsplash in the kitchen.
You can also use pebbles around your indoor plants to reduce soil erosion when you water them, conserve moisture in the soil and stop pets from digging in them.
Pebbles for Outdoor Use
Garden designs with pebbles and pavers add texture and interest as well as practical drainage and help to keep the weeds at bay.
The naturally uneven surface of a layer of pebbles makes it ideal for non-slip steps and paving. Try making a chequerboard pattern with alternating pavers of plain and pebbled. Use pebbles to make drains more attractive while retaining their drainage properties.
Pebbles also make great ground cover and help keep the weeds down.  Spread pebbles over weed mats or place around the base of your trees. The tree roots can still breathe, but the pebbles provide better drainage and weed control.
If you have stepping stones or unpaved garden paths, you can add a layer of pebbles for texture and interest, or perhaps a water feature or rock garden is more your style.
Pebbles Decoration Ideas
You can add different coloured pebbles to your existing garden ornaments and features such as bird baths and bird houses, plant pots, and fish ponds. Create a beautiful mosaic on concrete, a stone bench, or table top using coloured flat pebbles. Build your own unique stone sculpture or inuksuk, or even a series of them around the garden.
Once you start creating with pebbles, you'll soon come up with many more ideas to make a statement and enhance your living spaces.
Experience the Premier Difference
Premier Pavers offers a large selection of pavers as well as hand-selected, washed river pebbles in 10kg and 20 kg bags, or larger quantities by request. For friendly, professional advice about our large and small pebbles in a range of colours and more creative ways to use them, contact us online or call us on (03) 9248 2400 and experience the Premier difference.