Sandstone is a beautiful and versatile product. It imparts a feeling of ageless luxury to all designs. Made of primarily sand-sized mineral or rock grains, Sandstone has a noticeable softness. Like sand, it is available in a large variety of colours, including tans, browns, reds, yellows, and whites.
Why choose Sandstone Pavers?
It has been used for domestic construction since prehistoric times. Sandstone is widely used around the world in constructing temples, cathedrals, homes, and other buildings. Its softness makes it easy to carve. It is even used by artists to create ornamental fountains and statues. At your home, you can use them as sandstone pool coping or sandstone step.
Sizes & Styles
Sizes & Styles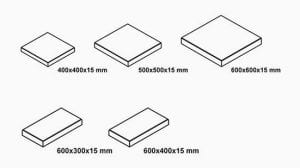 Other sizes are available on request.
Sandstone bullnose pavers available sizes

Sand bullnose pavers are available in rebated 20-30mm, or 30mm in either pencil edge or rounded edge.
Other sizes are available on request. (03) 9248 2400
Colours