Skimmer Box Lids
Traditional plastic pool skimmer lids are a big blemish on a luxury investment and require constant replacement.
Luckily "HIDE" has a solution. Their range of inlay lids for pool skimmers allows those eyesore spots to become essentially invisible. HIDE inlay lids are installed flush with the pool surrounds and are fitted with the matching landscaping materials to that of the coping or surrounds.
A finished HIDE lid blends seamlessly into a pool landscape, providing a luxury touch without the price tag.
Read More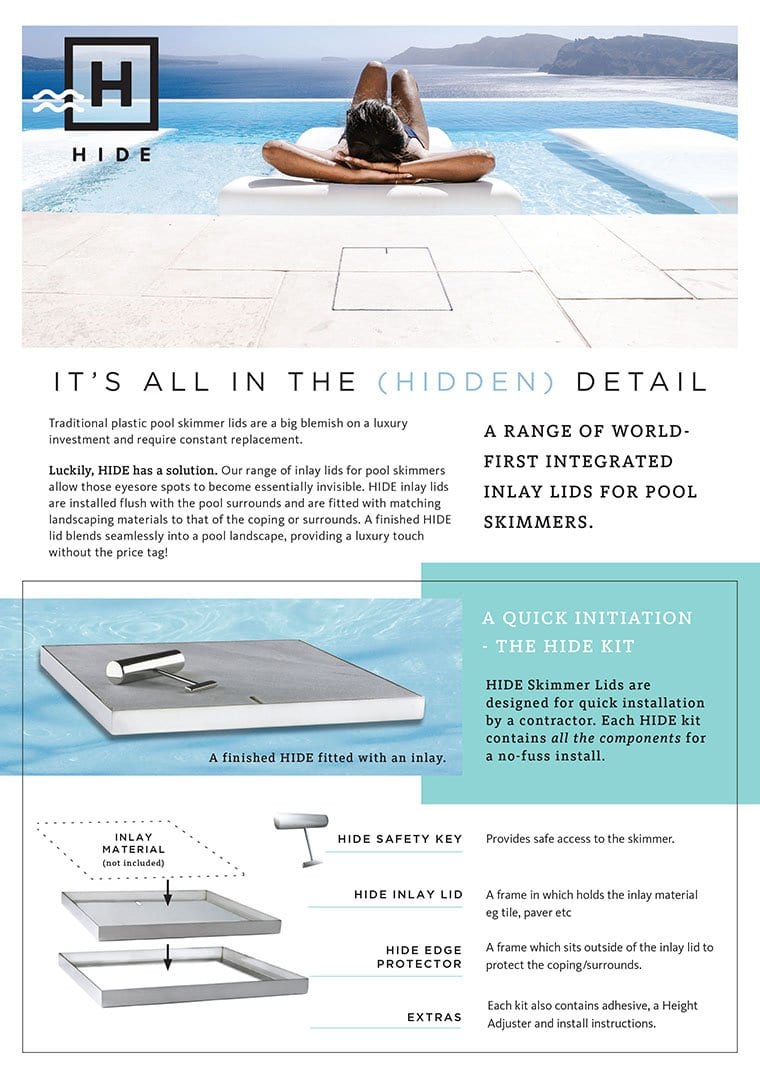 Marble
Marble's quintessential beauty symbolises success and immortality.
Marble is created as a result of the metamorphism of sedimentary carbonate rocks, most commonly limestone or dolomite rock. The resulting marble is typically composed of an interlocking mosaic of carbonate crystals.
Marble is highly resistant to abrasion, and is perfect for floors, tabletops and benchtops and is known as one of the most durable natural stones and guaranteed a long life span. Marble products enhance the beauty of your home and last a lifetime.
Read More
Sizes


MARBLE PAVERS
With 20mm thickness, Marble Pavers are strong and suitable for your patio or steps and treads. Send us a message for colour availability.
MARBLE TILES
We also supply marble in 10 mm thickness that are applicable for your interior like marble flooring or marble wall.
MARBLE SLAB
In case you are after marble slab for your kitchen bench top, we have marble slab in various sizes that will suit all your needs.
Limestone
Limestone is a sedimentary rock composed mainly of calcite, is hard wearing and durable and the perfect choice for areas around the pool or courtyard.
Limestone Pavers has been very common in architecture, especially in Europe and North America. Many landmarks across the world, including the Great Pyramids in Egypt, are made of limestone.
While Limestone pavers perfectly meets your flooring and paving needs, it should be remembered that acid-based cleaning chemicals can etch limestone.Thus, it is advisable that to maintain the shine of your limestone, clean it with a pH neutral cleaner.
Read More
Sizes and Styles


Please note the 600×600 is also available in 30mm thickness.
NOTE: If the enquired size is not in stock, it can be specially ordered. CALL US NOW for further enquiries  (03) 9248 2400