Premier Hydropavers® are 100% ceramic pavers, perfect for roads, parking areas, driveways, public footpaths, pedestrian precincts, garden paths, and patios.
Premier Pavers & Stone is pleased to bring Premier Hydropavers®, a range of totally permeable pavers, exclusively to Australia. The need for hard surfaces that allow water to drain naturally has increased substantially. Modern construction requires a modern response. Increased extremities in weather mean an increased likelihood of flash flooding and other extreme weather events.
Premier Hydropavers® provide the perfect response to rainfall, whether it's a light shower or a heavy downpour. You don't have to worry about finding a hiding spot for that unsightly drain because the pavers act as the drain. The permeable material allows the water to pass through the paver and go into the soil, replenishing our groundwater stocks and assisting in the hydration of surrounding plants.
Our Permeable Premier Hydropavers® have been nominated for the Green Building Product of the Year Award!
Premier Hydropavers® truly are a modern response to a modern problem. They provide a flexible construction option whilst being an eco-friendly alternative to current paving options. They will also increase the safety of your paved area, by reducing puddling and they also act as a surface temperature regulator, making them perfect for cramped urban spaces where heat can be easily trapped.
Watch our video about Ceramic Permeable Premier Hydropavers®:
Watch our video about Ceramic Permeable Premier Hydropavers®:
What are the benefits of using permeable pavers?
Super high level of permeability. More than 60mm of water permeates through Premier Hydropavers® per hour. Water can permeate through the entire face of the pavers, which is significantly different from other permeable pavers which only allow water to drain through the spaces between the pavers.
Water conservation. Water returns to the soil improving the lives of plants and replenishing groundwater resources.
Strong water absorbing capacity. Premier Hydropavers® absorb water like a sponge. If less than 5mm of rainwater falls, this water evaporates back into the atmosphere once the rain event is over.
Safety and comfort. Rain water seeps into the ground rather than puddling – preventing the hazards that puddles can pose, including reducing the risk of people slipping, reducing sun glare and night reflection.
Noise reduction. The porous structure of the paver absorbs a large amount of noise, making the pavers perfect for high-density urban areas or dwellings that are close to busy roads.
Compression resistant and weathering resistant. Breaking load is 10kN for the 200x100x55 size paver, and 20kN for the 300x300x55 size paver, meaning you can rely on Premier Hydropavers® to stand up under extreme weight.Premier Hydropavers® like ceramic tiles, are resistant to weathering, even when exposed to strong acids or alkalis.
Eco-friendly. Designed to be used and reused, permeable pavers conserve rain water, regulate surface temperatures, reduce noise, and improve safety and comfort. All these environmentally friendly benefits in pavers that will blend beautifully in every home or commercial design.
They are easy to clean. They clean up easily with a high pressure water cleaner.
They never need sealing. Because they are made from ceramic material they do not need to be sealed.
Permeable pavers are a vital component of sustainable urban designs.
They help reduce run-off. Rainwater flows through the pavers instead of across the surface of the pavers to a drainage point.
They help reduce the number of pollutants that enter our waterways. Heavy metals, hydrocarbons, nitrates and phosphates are often present in run-off. By allowing water to filter through the pavers and subbase, fewer contaminants will reach our streams, rivers, seas and oceans.
They help reduce flood risk. By allowing water to drain into the ground below them, the pavers take the pressure off stormwater drainage systems. The risk of flooding that may occur as a result of overloading these drainage systems is signifcantly reduced.
They help reduce the risk of increased drought. Australia is one of the driest continents on Earth. Every drop of water is precious. Managing this essential natural resource is more important than ever. By allowing water to return to the water table, permeable pavers help increase the quantity of groundwater.
They help reduce the Urban Heat Island Effect. Permeability and evaporation of water from the paver can regulate surface temperature of the pavers and help regulate surface temperature and air purity. Testing has shown that on a 32°C day, timber decking can reach temperatures of up to 59°C whereas permeable pavers measure at around 30°C.
They are an important element of Water Sensitive Urban Design. They allow water to return to the water table, which may provide benefits to biodiversity.
They help create Sustainable Urban Drainage Systems. They reduce run-off and standing water, and filter pollutants as the water flows through them, contributing to improving water quality.
In summary,Premier  Hydropavers® help improve water quantity, water quality and biodiversity in our urban environment.
If you want flexible, eco-friendly and innovative pavers you can trust, you can't go past Premier Hydropavers®. Modern construction requires a modern response, don't get left behind – invest in the future.
Colours and sizes
Premier Hydropavers® are currently in stock in the following colours:
Charcoal
Dark Grey
Silver
Sand
The sizes that are currently available include:
600x300x55
300x300x55
200x100x55
Other colours that can be ordered in include:
Other sizes that can be ordered in include:
Other sizes and colours may be able to be ordered in. Please contact us for more details and to discuss your projects requirements.
Technical Specifications of Ceramic Permeable Premier Hydropavers® :
Approximate weight per paver: 18 kg (600x300x55mm), or 9 kg (300x300x55mm), or 2 kg (200x100x55mm)
Permeability rate: greater than 60mm/hour
Water retention capacity: 6 litres per square meter
Anti slip rating: British Pendulum Number 65- 85
Breaking Load: 10 kN for the 200x100x55mm size paver, and 20 kN for the 300x300x55mm size paver.
How do you lay permeable pavers?
Laying permeable pavers is remarkably similar to laying regular pavers on a crushed rock and sand base. In conjuction with Nic van Diemen we have produced a comprehensive guide for you. Contact us, and we will email this guide to you.
Winner at the Melbourne International Flower and Garden Show
Lincoln Flynn, from Lincoln Flynn Landscape Garden and Graphic Design featured our Permeable Premier Hydropavers® in his Achievable Garden design at the Melbourne International Flower and Garden Show. His garden picked up two awards – First Place in the judges awards for the Achievable Gardens, and the People's Choice Award as voted by the general public visiting the show. Congratulations Lincoln!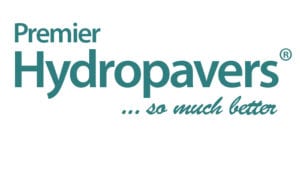 Experience the Premier Difference
Stocks available to pick up at our showroom
Life-time guarantee
Advises from experienced team members
landscapers are available if required
Discount offered for bulk buying
Send a message for no obligation quote or call us today.