While there are many materials to choose from, adding pavers around your swimming pool can be beneficial to both homeowners, and those who are set to enjoy hours of fun splashing around. If you're making the decision on what to cover your outdoor area with, nothing can really compare with the quality of natural stone and concrete pavers. Based on our longstanding experience in the industry, Premier Pavers & Stone has years of experience in creating the highest quality pool paving.
Not only can pavers create a natural-looking environment for everyone to enjoy, but they can also withstand the effects of both chlorinated and salt-water pools. With this being said, there are many reasons why people opt for pool pavers in the landscaping of their outdoor pool areas.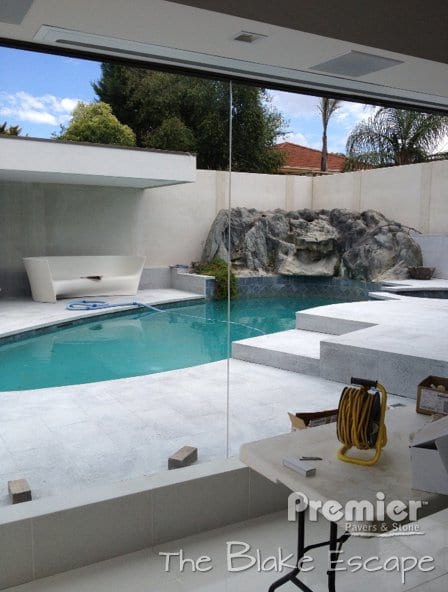 Why Use Pavers Around Your Pool
Affordability : Pool pavers are a very cost effective alternative to other means of covering your outdoor area. Not only are they cost-effective to install, but they also require less expensive maintenance than other materials.
Durability : Installing pavers around the pool are a good way to ensure the durability of your outdoor area. Pavers have the ability to withstand wear, pressure and damage, making them perfect for tackling the elements.
Strength: The right type of paver for your pool area will be strong enough to withstand the effects of foot traffic, furniture and water splashing. They will also be strong enough to withstand the effects of chlorine and salt water, giving you peace of mind about the rate your pavers will wear and tear.
Easy installation: Installing pavers can transform any outdoor space, plus they are extremely affordable and simple to install around the pool. Using pavers is economical, while allowing you to create patterns with shapes, sizes and colours to suit your landscape design.
Non-slip surface: One of the key advantages of pool pavers is the peace of mind that they are slip resistant. It is so important when installing a pool, to know that safety of your family comes first. Pavers can ensure that all your guests will be safe when playing and walking around the pool.
Easy to repair : The great thing about pavers is that they can be easily repaired and replaced. Instead of pulling up the entire floor, single pavers can simply be removed and replaced. Pavers are a very cost effective material when it comes to maintenance and repairs.
Versatile: Pool pavers come in such a wide variety of colours and shapes that the design possibilities are endless. An assortment of pavers can create a range of looks that will suit your pool area. Pavers are available in various colours, textures, shapes and sizes, which means that you can basically create designs from scratch.
What Type of Paver to Use Around Your Pool
After you have made the decision to pave your pool area, there are still a number of other factors to considered. There are a number of types of pool pavers that can be used to compliment your outdoor area.
As a paving material, Bluestone is extremely durable, environmentally friendly and very popular. These pavers are designed to be safe and attractive for people of all ages. Sandpapered twice with a #200 grit sandpaper, our #400 grit Bluestone has anti-slip properties that are perfect for any pool area.
The best thing about concrete pavers is that they allow you to enjoy a sophisticated and decorative finish. Our concrete pavers are a perfect fit for any outdoor setup, as we allow you to customise the colour and finish to suit your pool area.
If you are looking for pavers with the least amount of maintenance, choose porcelain pavers. Porcelain pavers are UV resistant, and have a slip resistance of R11. They don't need to be sealed, and are easier to keep clean than concrete or natural stone.
Travertine brings a sense of elegance and sophistication to any outdoor space. Because they are cooler under foot than concrete, bluestone or granite, travertine has become a very popular choice, favoured for its stylish design and timeless finish. These pavers are an ideal fit for any outdoor feature wall or floor space, providing an easy to sweep, non-slip surface.
Planning Your Pool Paving
When planning to pave your pool, we can provide you with the peace-of-mind you deserve. Premier Pavers & Stone sources its products from the very best manufacturers worldwide. Based on our long-standing experience in the industry, we ensure that our stone is of the highest quality possible. We provide the confidence to you that our pavers will be superior in style, durability and performance.
Experience the Premier Difference
Stocks available to pick up at our showroom
Life-time guarantee
Advises from experienced team members
landscapers are available if required
Discount offered for bulk buying
Send a message for no obligation quote or call us today.