When you invest in beautiful and functional paving to improve the look of your outdoor entertaining area, pathways, pool area or driveway, you also add considerable value to your property.
Should you choose to sell the property, well-laid pavers that complement the exterior will make your property stand out from the rest and create interest and a great first impression among buyers.
Laying the right pavers can make all the difference in how much value you add and will ensure your investment holds its worth.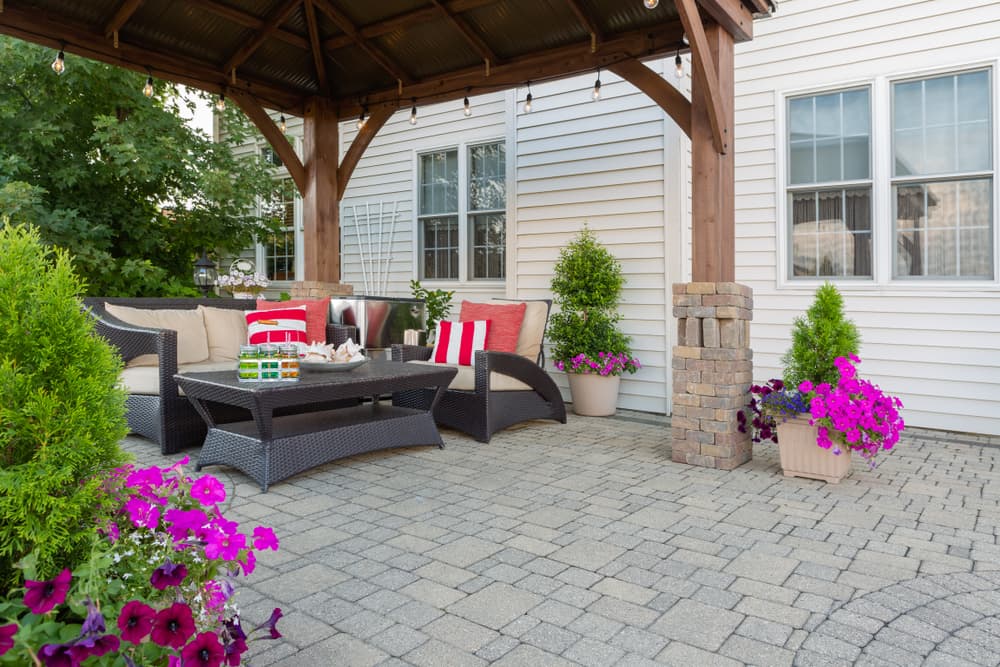 Pavers: A Big Part of Landscaping
A property with landscaping will always be worth more than one in the same area without it, and stunning paving enhances and brings the different parts together to complete the look.
Paving is a popular choice that makes your garden look well maintained and cared for, and it's one of the first things people notice.
Paved patios also extend the living space of the property and make it seem larger and more functional, and therefore more valuable.
After all, who wouldn't love a beautiful home with a stunning paved outdoor entertaining and pool area that blends seamlessly with the rest of the property?
Brick Pavers
When choosing pavers, it's important that they look the part, and brick pavers give a classic look to any style of architecture but particularly to older cottages and traditional homes.
Red brick pavers look great anywhere and the designs and patterns you can use are limitless. They're a cost-effective paving solution that makes any property look more valuable.
Natural Stone Pavers
Natural stone pavers are the most popular choice for paving because of their strength, versatility, non-slip surface, and range of textures and colours.
Bluestone, travertine and granite pavers last a lifetime and allow you to create a wide range of effects, and any one of them will beautify and provide a good return on investment.
For contemporary or heritage style properties, natural stone pavers are eco-friendly, easy to lay, and offer that wow factor at a surprisingly reasonable price.
Italian Porcelain Pavers
If you really want to impress, you can't go past low maintenance Italian porcelain pavers. They give the look of natural stone pavers, but with a stunning glaze that's easy to clean and doesn't stain.
Porcelain pavers can be used anywhere you want paving, and they're so strong and durable that they can be used in high traffic commercial settings such as car parks, airports and train stations. Italian porcelain pavers cost a little more, but they're so versatile and beautiful that it's well worth the extra investment.
Experience the Premier Difference When Choosing Pavers
Premier Pavers offers a large selection of pavers so you can make the right decision when choosing pavers to add value to your property. For friendly, professional advice about any of our pavers and the best ways to use them, contact us online or call us on (03) 9248 2400 and experience the Premier difference.